My Web Audit Vs. BrightLocal
The difference in a nutshell
BrightLocal makes it relatively simple to let website owners request a local SEO audit and provides a wealth of tools that make it easier to follow up with the site owner.
Many of BrightLocal's features are more suited to client interactions, however. That means that if you haven't signed a deal with a business yet, you'll be less able than to demonstrate your value than you might like.
That, frankly, will make it harder to close more deals with BrightLocal… Especially if something else—like overall website health or ecommerce performance—is more important to your lead.
In other words, if you want to close deals around local SEO, Google citations, or reputation management, BrightLocal can help. If you'd like to sell anything else, it just won't do the trick.
VS

My Web Audit (MWA) helps web professionals and agencies sell SEO projects—just like BrightLocal does.
But it also helps with so much more. With MWA, you can run reports on web design and site health, eCommerce management, conversion rate optimization, and other popular agency services… And you can do it all with attractive, actionable, easy-to-understand reports.
And with My Web Audit, you can do all of it before the sale, not after—which means you can use MWA to "get your foot in a lot more doors."
Bottom line: if you're interested in offering a full spectrum of services to your leads and clients—or even just the ones that BrightLocal ignores—MWA is what you need to succeed.
Want to sell a comprehensive slate of agency services?
You'll need more than BrightLocal.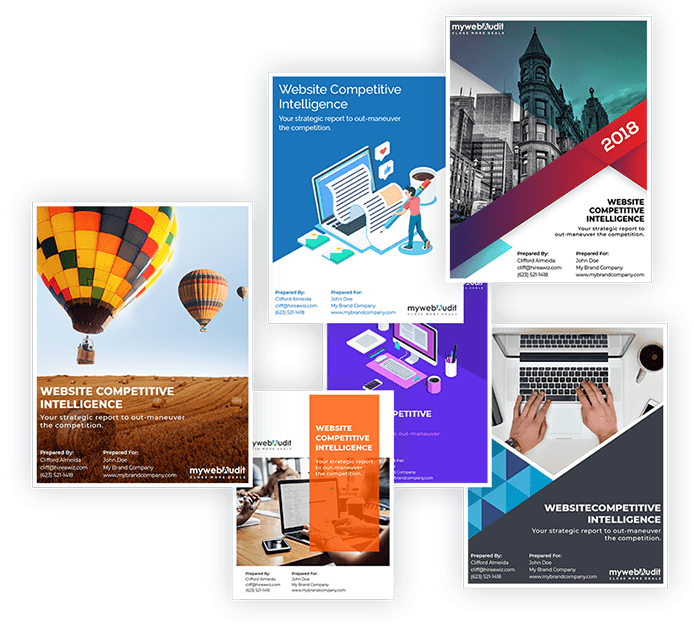 BrightLocal is among the best-in-class for talking to clients about things like local SEO, local citations, and reviews.
And with white-label reporting and an available lead-generation widget for local SEO, BrightLocal makes it somewhat easier to start that conversation in the first place.
The primary issue is that, yes, BrightLocal does a few things well—but ONLY those things.
On the other hand, My Web Audit gives freelancers and agencies a wide variety of reports—web design, conversion rate optimization (CRO), Google Business Profile, e-commerce, WordPress Technical assessment, and more.
That means, with MWA, you'll have more ways to start a sales conversation and more opportunities to deliver value.
MWA reports look beautiful and are professionally written in language that business owners can easily understand…
That means when you want to make a massive impact, demonstrate you can generate revenue and ROI, and offer value, you'll have so many more options than BrightLocal.
MWA reports address everything a business owner needs to succeed online in 2022 and beyond.
And since they measure what matters, you'll find it easier to sell. Why? Because your leads will know from the start that you're not simply pushing a local SEO plan—and instead, you care about helping them get better results.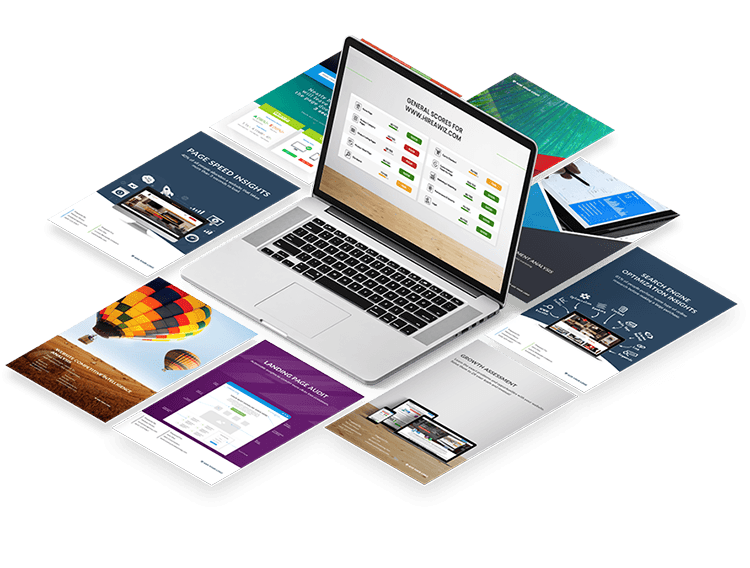 If you're doing more than local SEO or reputation management—or something else
altogether—My Web Audit is the better choice.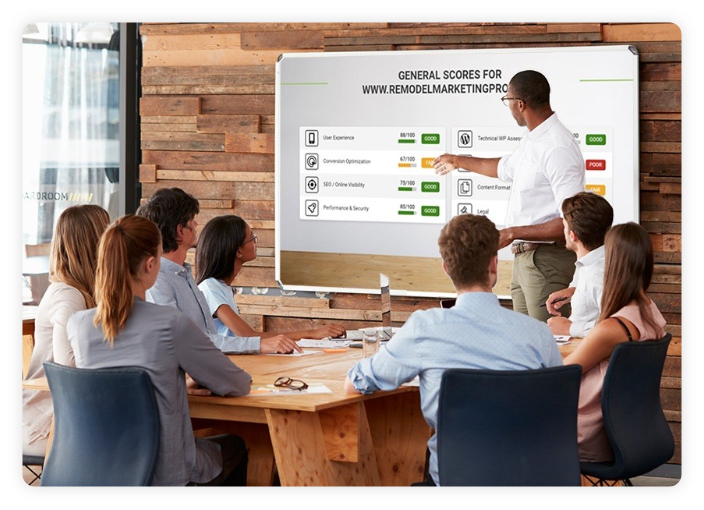 This is an unbiased comparison, so let's get something straight—if you want to manage reviews or work with a client's citations, My Web Audit won't help. When you compare MWA to BrightLocal, only BrightLocal has those features.
BrightLocal is also great at helping leads and clients with local SEO and Google Business Profile.
But what if, for example, you want to offer your leads more than just ongoing SEO services, or you're just not interested in reputation management? If you're looking to close deals involving anything other than this limited scope, BrightLocal comes up short.
My Web Audit reports don't just address SEO… They take care of everything else that today's marketing-focused business owners consider essential: performance and security, user experience, conversion, online visibility, and even copy & content.
If you're selling other agency services like web design, ecommerce, or marketing, MWA is the only choice.
After all, you'll have a much easier time convincing leads to trust you when you can quickly and easily identify all their pain points and show that you can fix them...Which, of course, is precisely what My Web Audit does.
These happy My Web Audit users agree—MWA offers so much more than BrightLocal.
My Web Audit Vs. BrightLocal: Feature Comparison
| Audit Features | My Web Audit | BrightLocal |
| --- | --- | --- |
| Website Audit | YES | NO |
| E-commerce Website Audit | YES | NO |
| Landing Page Audit | YES | NO |
| On-Page SEO Report | YES | YES |
| Page Speed Insights Report | YES | NO |
| Competitive Analysis | YES | YES |
| ROI Calculator & Report | YES | NO |
| Website Audit Lead Magnet Landing Page & Widget | YES | NO |
| SEO Audit Lead Magnet Landing Page & Widget | YES | LIMITED |
| Page Speed Audit Lead Magnet Landing Page & Widget | YES | NO |
| Google Analytics KPI Report | YES | YES |
| Audit Chrome Extension (Manual Audits) | YES | NO |
| Reporting Features | My Web Audit | BrightLocal |
| White Label Reporting | YES | YES |
| White Label Domain | YES | YES |
| PowerPoint | YES | NO |
| Create & Customize Your Own Report Templates | YES | LIMITED |
| PDF | YES | YES |
| Google Docs | YES | NO |
| Excel | YES | LIMITED |
| HTML Report | YES | YES |
| Mobile-Friendly Reports | YES | YES |
| Report Storage (90 Days) | YES | YES |
| Sales & Marketing Features | My Web Audit | BrightLocal |
| Reviews, Trust Factors & CTA's | YES | NO |
| Notifications & Link Tracking | YES | NO |
| Email Templates | YES | LIMITED |
| Personalize Audit Points & Messaging | YES | NO |
| Embeddable Website & SEO Audit Form | YES | YES |
| Embeddable ROI Calculator Form | YES | NO |
| Chat App Integration | YES | NO |
| 3rd Party Integrations W/ Zapier | YES | NO |
| Remarketing Pixels | YES | NO |
| Setup & Support | My Web Audit | BrightLocal |
| Phone Support | YES | NO |
| Concierge Setup & 1-on-1 Product Walkthrough | YES | NO |
| Priority Email & Chat Support | YES | LIMITED |
| Premium Add-ons Available | My Web Audit | BrightLocal |
| Add Custom Notes to Audits | YES | NO |
| Run Google Business Profile Audit | YES | YES |
| Perform a WordPress Technical Audit | YES | NO |
| Add Your Own Custom Audit Points | YES | NO |
| Build Lead Lists in Minutes | YES | NO |
My Web Audit helps you make more sales.
Here's what you can do with My Web Audit:
Deliver beautiful audit reports that impress in just minutes. Report design is flexible, and branding can be customized to reflect your preferences. Best of all, our reports are intuitive and functional—and built to "wow" your leads.
Review dozens of audit points—web design, e-commerce, WordPress, Google Business Profile, and more. Then, explain to leads and clients in terms that anyone can understand.
Embed landing pages or lead-generation widgets on your site and offer website audits, SEO audits, GBP audits, ROI assessments, and more. The result? Up to 4x more leads than a traditional PDF lead magnet.
Shorten the sales process by sharing easy-to-understand recommendations with your leads.
Personalize everything from CTAs to email messages, countdown timers, and report logos… With a white-label domain for reports.
Audit non-automated aspects of a website or Google Business Profile with our free Chrome extension.
Motivate leads, build trust, and increase conversions with a wide variety of tested tools and tactics built right into MWA and supporting materials.
Use notifications and alerts when leads open sales emails or read audits. Follow up faster and close more deals.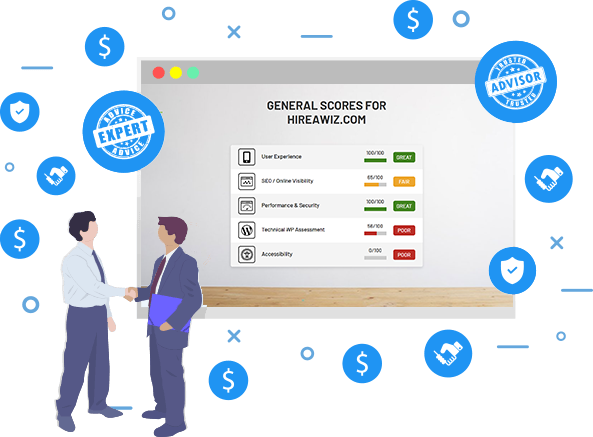 We're committed to your success.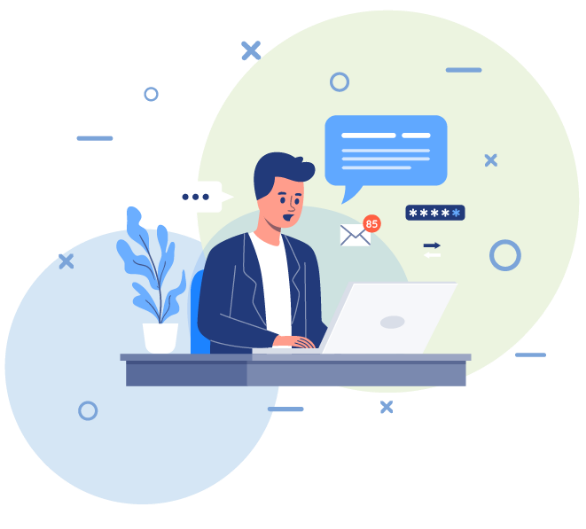 At My Web Audit, we don't just run a piece of audit software. We've also built—and still run—a web agency. That helps us understand EXACTLY what you need to close more deals.
So we not only offer live chat—when BrightLocal doesn't—but OTHER support options you just won't find anywhere else.
Like our private Facebook group—currently more than 1600 strong—in which web professionals and agency owners ask and answer questions.
Or the free training we regularly provide, like our "Close More Deals" webinar.
Or the countless free resources, like our done-for-you website copy, landing page copy, and sales emails.
Or even things like Project HOPE, the free Agency Resource Hub we built to offer helpful tools and resources during the COVID pandemic.
When it comes to support, we go above and beyond. After all, helping you succeed helps us succeed.
My Web Audit or BrightLocal? The last word
Both My Web Audit and BrightLocal help you sell your agency services to business owners. But ONLY My Web Audit helps you sell more than just local SEO and reputation management.
My Web Audit takes building value with leads to the next level, providing a step-by-step process that makes it easy to help prospective clients trust you.
With MWA, you can deliver results-oriented recommendations to business owners—recommendations that are both personalized and actionable—and you can do it as quickly as emailing a PDF.
You'll show them in clear, easy-to-read language how to get maximum impact for their investment, which will position you as a strategist, not "just a pair of hands."
MWA's audit points are easy for business owners to understand, and they focus on the digital marketing tactics and strategies that are important in 2022 and beyond. That means you'll be able to start in-depth conversations about growing your lead's business—NOT just about how to rise in the search engines or get better reviews.
Even better, MWA reports demonstrate that you understand how to help your leads succeed—not just how to get them to pay you for what you do.
My Web Audit is the more intelligent choice. Try it now for free.
My Web Audit and BrightLocal produce great-looking SEO reports. Both platforms help you prove to your leads that they can trust you with their search engine optimization needs.
BUT—
If you want to do more… If you want to run website, page performance, conversion, e-commerce, and Google Business Profile audits in addition to local SEO—and all in five minutes or less—there's only one choice: My Web Audit.
It's simple: MWA helps you close more and bigger deals.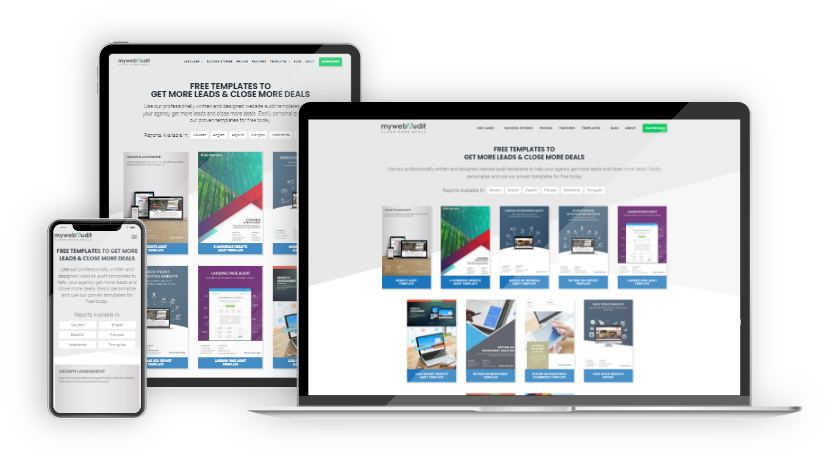 Start closing more deals—faster and easier
with incredible audit reports business owners will love
Try My Web Audit FREE for 7 days—no credit card required