Embed our lead widgets on your site to give your prospects one of our highly valued reports in exchange for an email.
Prospects are sick and tired of the hard sell and false promises. They are looking for a solution to their problems and someone who can help them achieve their goals.
Our lead-gen widgets work well to capture and convert your website visitors into leads, because they offer actionable insights into the prospect's challenges and provide recommendations on how to solve them.
Your prospects get real value in the form of an audit report, and you generate leads who want to hire you to fix their website, SEO, or other marketing problems.
With our lead widgets and actionable reports, you can start providing more value upfront to attract and close more deals – no hard-selling required!
Easy to customize and install
It takes just a few clicks to get your first widget up and running. Your website could
be ready to capture leads in five minutes from now.
Templates & Styles — Choose from different widget styles and layouts. Customize it to match your brand.
Notifications & Automations — Configure email notifications for leads and use Zapier for automation.
Personalization — Change copy and colors quickly and easily to match your branding and voice.
Easy Setup — Create and embed the lead widget in just minutes. They look great across multiple devices.
Lead Widgets for Web Agencies and Freelancers that turn your
website into a lead generation machine.
The agency space is highly competitive. 4X your website visitor to lead conversion with
our various lead generation widgets.
Unlike any other software, we've got lead widgets and high-value audit reports for all
popular agency services.
Get More Leads… Effortlessly
Your visitors are looking for solutions, not sales pitches. Offering a free or paid audit gives them the valuable information and solutions they are seeking. Our lead widgets and report cover everything from web design, SEO, page speed to Google Business Profile, landing page optimization, and more.
Start engaging and converting your visitors into leads by giving them something they want and find valuable!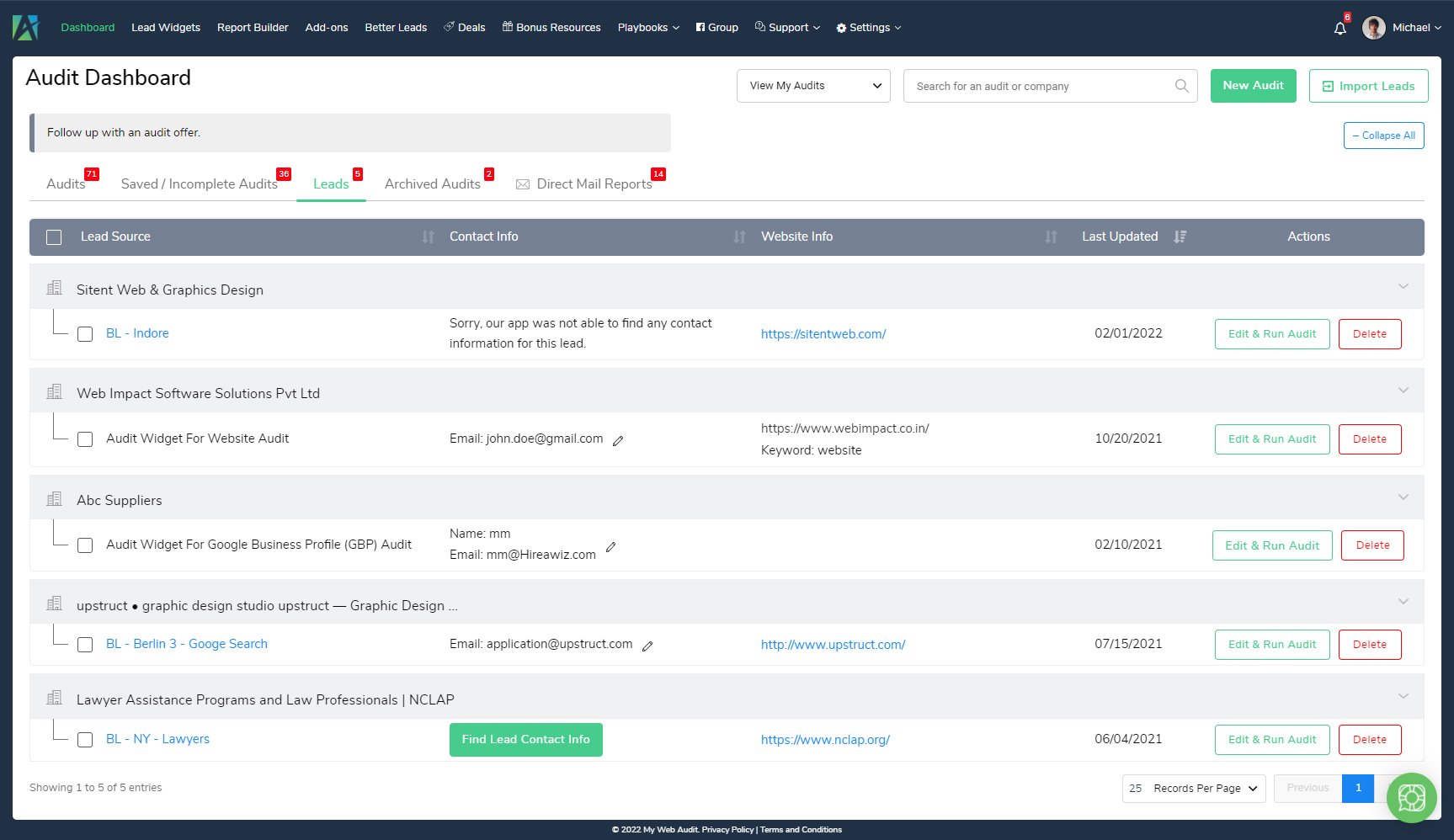 Here's why so many agency owners love our
lead widget (and why you will too)
Generate 4X more leads by offering relevant and high-value reports your leads actually want.
Our professionally designed widgets and styles don't just look great. They convert.
Easy to customize and install. Use Zapier to automate and integrate with your favorite CRMs and more.
You can start generating more website leads in 3 easy steps.
Choose the widget type, style
and customize it.
Copy and paste the embed code
on your website.
Start collecting leads and
closing more deals.
Hundreds of agencies across the world are generating leads and reports right now to grow their business. You can too.
Get Started Today
Start generating more leads & close more deals.